Non Alloy Steel Wires
PRIME WIRES PVT. LTD. is a manufacturer & exporter of various types of wires, such as Mild Steel Wire, High Carbon Wire, Spring Steel Wire, Galvanized Wire or GI Wire, Binding Wires, Bailing Wires and wire products like Wire Ropes, Springs, Wire Nails, etc. used for multiple applications under the brand name of Jyoti.
At Prime we believe in quality products giving value to its end users. We are committed to deliver products of best quality, matching International standards, for which we undergo continuous improvement in our process. Our strict adherence to quality and service has leaded us to be a reliable business entity.
Right from the raw material selection to the packing & dispatch of our final products we do not compromise on quality. Our robust planning and forecasting help us minimize the lead time for delivery to our customers who are the pillars for our support and we believe in providing competent services to all our customers, small or big.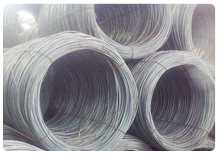 Mild Steel Wire
Jyoti Brand M. S. Wires is basically iron that contains 0.05% to 0.20% of carbon, whose presence makes it stronger and harder as compared to pure iron. With the increase of carbon present the hardness of the steel also increases.
We offer Hard Bright i.e. H. B., Half Hard Bright i.e. H.H.B. & Annealed (Soft) variation in Mild Steel wires in sizes ranging from 0.50mm to 6.00mm. Annealed wire with best quality material and packaging is used to make Bailing Wire used for bailing scrap, paper bundles and other materials.
Our MS wires are used in fasteners, rivets, nails, springs, wire ropes, bails, wire mesh, weld nets, wire fence, needles etc.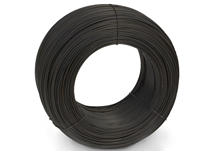 Baling Wire
Baling wire, otherwise known as bale wire, farm wire, or soft wire, is a type of wire used to band together corrugated cardboard, paper, textiles, aluminum and other materials that are processed in the recycling industry. Our baling wire has uniform tensile strength and elongation properties. You can form a strong knot with minimum stretch.
Advantages
Superior quality
Long lasting
Optimum Strength
Excellent finish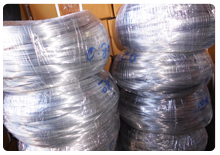 Galvanized Round Wire
We manufacture qualitative range of Jyoti brand Galvanized wires that are used in various industries such as imitation jewelry, wire mesh, fencing, cables, publishing, stitching wire, binding, netting, and engineering industries etc.
Our products are manufactured using quality approved basic material and are in adherence with defined industry standards.
We offer G.I. Wires in size range 0.26mm to 3.00mm. With our technology driven equipment and strict checking at regular intervals we are able to maintain minimum size tolerance to avoid wastage and to ensure quality product to our customer. Our G. I. wires are of consistent mechanical properties and have uniform zinc coating & bright surface finish.
Available in Hot-Dip & Electro Galvanized coating we are able to offer wide range of products depending on customer's requirement.